Therapeutic Massage in Alexandria Virginia
Deep Tissue Method for Successful Relief of Myofascial Pain
a logical and effective remedy

complements chiropractic care

natural holistic healing

helps keep your body in a correct natural alignment

reduces subluxations, anxiety and stress

improves circulation
To make an appointment with massage therapist
Emma Nicholson CMT, please visit www.AlexandriaMassageByEmma.com.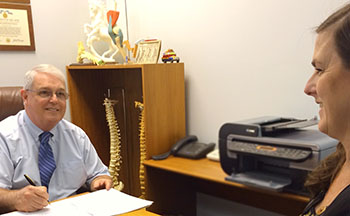 It is widely believed that inflammation and irritation of the musculo-skeletal structures of our bodies can affect healing. These two complicating factors can also be responsible for the patient experiencing pain. Deep tissue massage to tendons, ligaments and muscles often assists in reducing or eliminating this inflammation and irritation.
Massage works synergistically with chiropractic manipulations to break the "safety pin cycle" of pain-spasm-pain associated with trigger points and chronic muscle tension. Muscle atrophy from chronic tension and stress can lead to ligament laxity, decreased flexibility in the joints and poor posture.
Our office has special equipment for pregnancy massage, Traditional Chinese Medicine accupressure and Craniosacral Therapy techniques. Making arrangements for massage at Allied Chiropractic is easy and convenient.
Simply call (703) 823-1414 between 2:00 PM and 7:00 PM Monday through Thursday
to schedule an appointment.